Used for bed coverings such as quilts, duvets, pillow cases, the luxurious touch of the silk and ranges of colors produced in Cambodia can be elegant and alluring. Silk can be sewn and woven into many designs and patterns for interior designs in pillow cases, lounges, soft furnishings, draperies, lampshades, even silk flowers. Mainly twill weave, Cambodian silk in 2-ply, raw silk, and silk organza for elegant dresses and other clothing for men and women.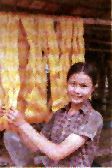 Khmer traditional silk weaving is both an art and a culture. Weaving villages and workshops are within 1-2 hours drive of Siem Reap and Phnom Penh. To learn about Khmer silk and the traditions of weaving in Cambodia, special tours can be organized for buyers or just as a cultural experience for a half day trip to weaving villages and crafts workshops.
Costs include fee for expert guide and half day car rental (for up to 4 persons).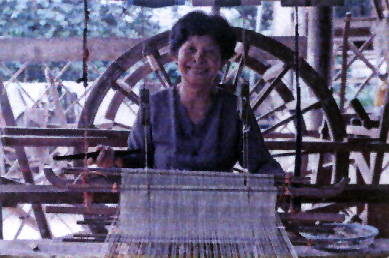 Cambodian Silk Forum Members

Orange River

Contact: Kellie Karatau, Owner
Email: orange.river@online.com.kh
361 Sisowath Quay / near FCC
Phnom Penh
Phone: +855 12 678 515
+855 23 214 594

Hagar

Email: hagardesign@hagardesign.com
Phone: +855 23 219 133
www.hagardesign.com

Sobbhana

Contact: Sales
Email: sobbhana@hotmail.com
www.sobbhana.org
#24, Corner of Street 144 and 49
Sangkat Phsa Thmei III, Phnom Penh
Phone: +855 23 219 455, 219 452

FLO-Khmer Silk Processing

Contact: Noun Phaly, Owner
Email: nphlay@online.com.kh
#277 B, Sisowath Quay, Phnom Penh
www.phalycraft.org

Handmade Textiles Group (Cambodian Craft Cooperation)
Contact: Lang Naiseng, Manager
Email: ccc_naiseng@online.com.kh
Design Center, Wat Phnom,
Phnom Penh
Phone: +855 23 982 154
+855 11 922 797

Institute for Khmer Traditional Textiles (IKTT)
Contact: Kikuo Morimoto, Owner
Email: iktt@hotmail.com
#472, Road to the Lake, Siem Reap
Phone: +855 12 924 617
www.esprit-libre.org/iktt

Soiries De Mekong
Contact: Teillard Therese
Email: sdmcambodge@yahoo.fr
Address: GPO 001, Sisophon,
Banteay Meanchy Province
Phone: +855 12 282 056

Kashaya
Contact: Catherine Theron
Email: kashayac@yahoo.com
#71 B, Street 244, Phnom Penh
Phone: +855 12 900 014